At Divinum Auxilium Academy we observe a rolling admission making it possible for students and families to join our community as spaces become available.
At times however, our classes may become full, at which time your child will be placed on a waiting list. Once the following admissions procedure has been completed, you will be offered a position on a first come first served basis.
New Families:
Schedule an observation by contacting us or calling (540) 631-0086. This observation is for parents and nursing infants only please. There will be a later opportunity to come with your child.

Visit the campus with your child for a tour and a brief interview.

Submit the Enrollment Form and Tuition Agreement with a non-refundable $50 application fee per child. 

Upon acceptance, pay a $250 non-refundable deposit per child. This fee will be applied to tuition.

A child is considered enrolled only when enrollment is complete and deposit is paid.

Submit transcripts/records from previous school.

Begin school.* 
Returning Families:
Submit returning student Enrollment Form and non-refundable $250 per child deposit by the deadline in order to reserve a place for your child/children.

A child is considered enrolled only when enrollment is complete and deposit is paid.
Children of Faculty:
Submit student enrollment form.

A separate tuition agreement form will then be drafted. 
*New Montessori Primary students will undergo an additional interview shortly before the start of school to ascertain current readiness. New Upper School students will have placement assessments in math, reading and writing.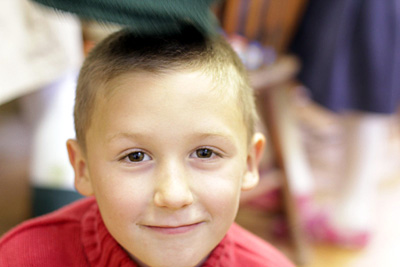 For more details and program information, please refer to the individual program descriptions. For more information on Tuition and Payment Options, please see our Enrollment Form & Tuition Agreement.
An additional note on observation for parents:
Observation is a very important part of our education as adults and parents, thus we welcome and encourage parents to take time to visit their children's classrooms.
In the interest of allowing children the time to settle into the environment and a habit of work, as well as offering you the most authentic observation experience, we offer Open Observation beginning in November and extending throughout the school year.
Please feel free to schedule an observation appointment at anytime during a regular school or atrium session by contacting the academy or (540) 631-0086.
Additionally, the November start time and by appointment are meant to give all concerned the optimal observation experience and are by no means meant to be restrictive.
Our classrooms and school are open to any parent of an enrolled student wishing to observe at any time on any day.